Hot Local Food – Find Love, Then Eat It
Think Tinder, but for food, and it already likes you back. Say hello to Hot Local Food. Free, hot, and available on iOS 15 and newer.
Want something to eat or drink but don't know where to go? Want to explore the local scene nearby or far away? Just want to look at some good pictures of good food? Hot Local Food is there for you.
With a photo-heavy, Tinder-style swipe interface, an extensive library of restaurants powered by Yelp, and slick features built on top, Hot Local Food will help you find exactly what you need.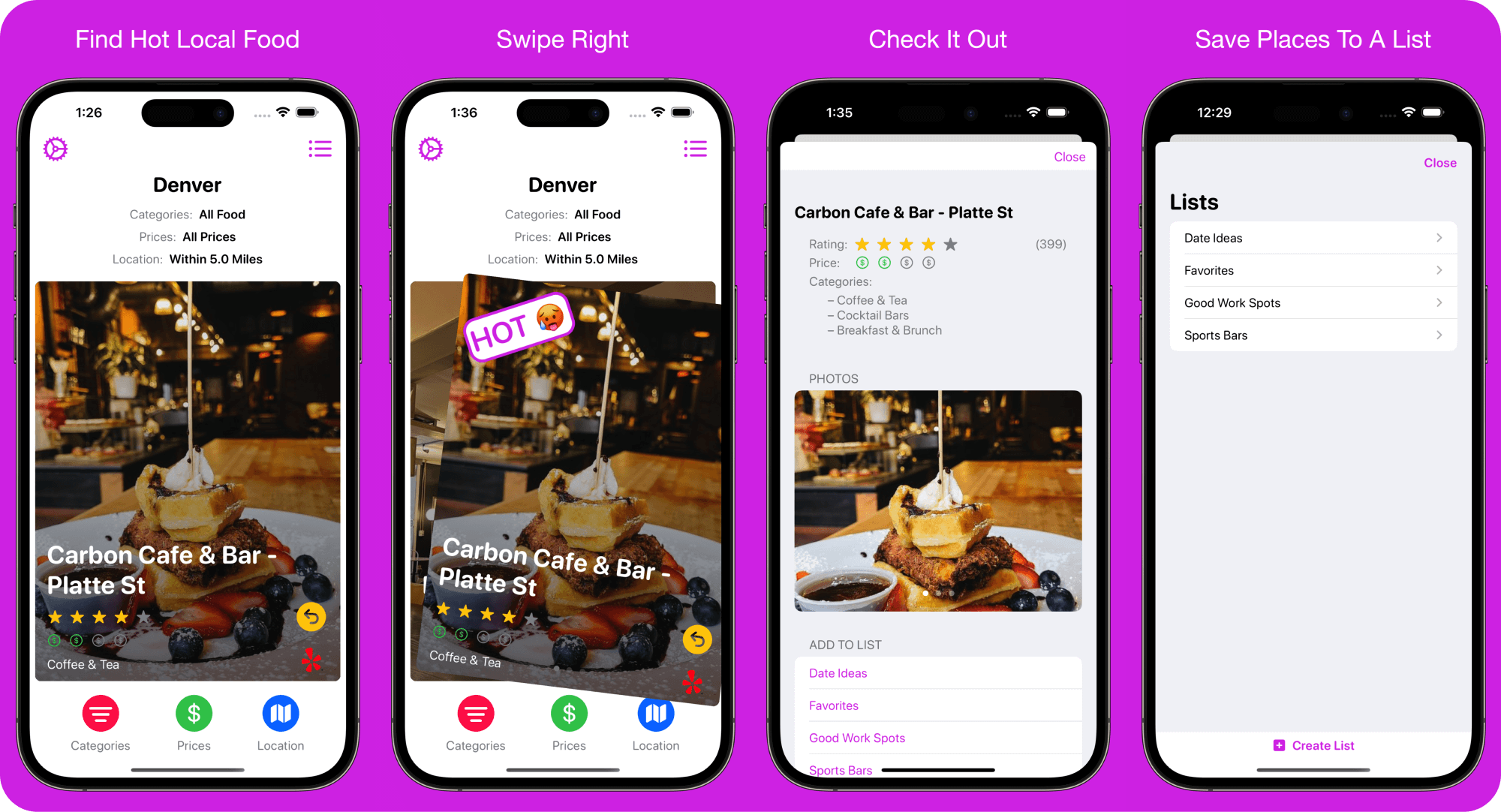 Features:
High-quality photos of each location
Filter places by category, price, and location
Save places for later by adding them to a custom list
Quick shortcuts to make reservations (OpenTable), order delivery or pickup (DoorDash and Uber Eats), and find directions (Apple Maps)
Easy access to information about the place, including its phone number, address, hours, and whether or not it's currently open
My wife and I recently moved to Denver. Before moving we used the app to check out fun bars and restaurants close to where we would be living and in the surrounding areas. It was a fun exercise and we've repeated it when getting ready to travel for weddings, vacations, and other trips. We also often use it on an average weekday when we want to go out somewhere.
Building this app has been a labor of love by me and a good friend – Carter Krafft. Carter has been the driver behind the idea and the overall concept, while I've done the implementation work and taken some creative liberties with the design. It has been a blast to build, and we hope you get as much out of it as we have.
Technical notes and privacy:
100% of Hot Local Food is written in Swift and SwiftUI
I do not store any of your data on my servers
I do use iCloud to sync your saved Lists and swipes data between iOS devices
The free version of the app uses Google AdMob, which collects some very basic data - you can pay to remove the ads
Read the blog post: https://www.ryantoken.com/blog/hot-local-food
Download on the App Store: https://apps.apple.com/us/app/hot-local-food/id1621818779
---